Wind Cave National Park
Lookout Point Trail loop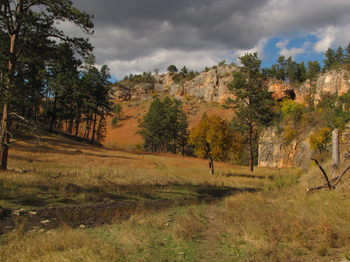 I had run into descriptions of the trails on this hike over the years and never really had the sense that it had all that much to offer.
---
When I eventually decided to hike this trail, I was slowed down by bison encounters to the point where I had to turn back or risk an encounter in the dark. Finally this year my son and I made the entire loop, and I was astounded at the beauty that surrounded us as we walked across the high rolling prairie and then descended into the canyon.
---
This is a quiet scenic hike with long and interesting views.
Approach

Take US 385 north from Hot Springs South Dakota approximately 12 miles to the junction with South Dakota Hwy 87.

---

Take a right onto SD 87 and go north 0.6 miles to the right hand parking lot turnout for the Centennial Trail.

---

Coordinates for the hike: 43.5814200,-103.4837800

---

Parking / Trailhead amenities

The gravel parking lot has room for a half dozen cars or so. There is an informational kiosk and no other facilities in the parking lot.

---

Keep an eye out as you prepare for your hike - bison have been known to wander through.

---

Trail observations

Lookout trail leaves the parking area from the right hand side as you face the kiosk. The trail descends to cross a stream, and then climbs the far side to a high meadow. After a long walk, the trail reaches a junction and then descends into the canyon. Follow the canyon back to the trailhead. You will be on Centennial trail for the last couple miles of the hike.

---

Every time I've been on this trail I've seen bison. Stay aware of your surroundings, and be prepared to either wait for the bison to move, or to take a detour around the bison. Give yourself a lot of room - don't get too close!

---

Trail statistics

The trail is 5.46 miles long. The sum of all the uphill climbs is 290 feet.

---

Trail waypoints

| | | |
| --- | --- | --- |
| 0.00 mi | Parking | Parking Lot |
| 0.04 mi | Trailhead | Trailhead |
| 0.87 mi | Prairie Dogs | Prairie Dogs |
| 2.32 mi | Go straight | Continue on #4 trail straight and a bit left to go down into the pines |
| 2.41 mi | Heading in | Heading into a ravine |
| 2.49 mi | Marker | Trails 4 and 7 marker |
| 3.12 mi | Head left | Intersection - head left up the canyon |
| 3.66 mi | Stay left | Branch - stay left and head towards Norbeck Dam |
| 5.46 mi | End of trail | End of trail |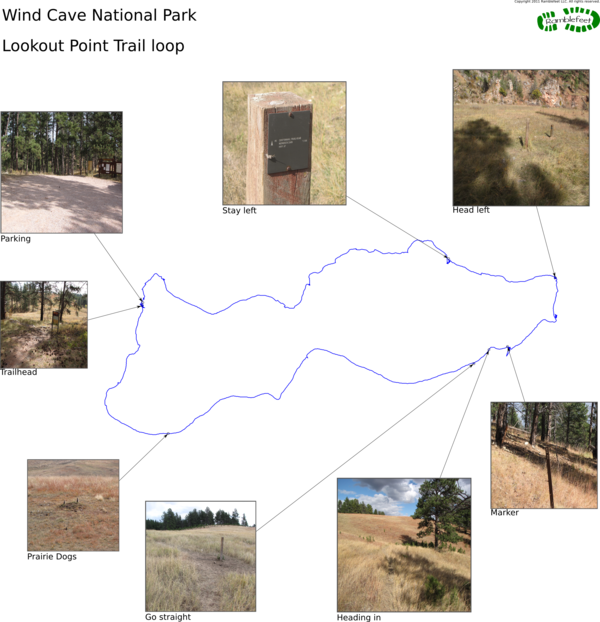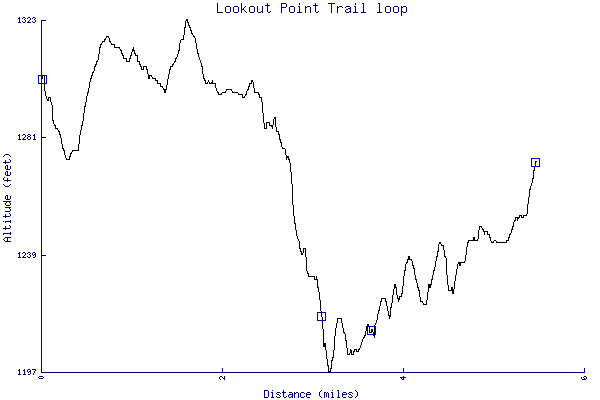 Keywords

Difficulty: Easy
Terrain: Canyon
Terrain: Hilly
Trail surface: Dirt
Trail surface: Grassy
Type: Loop
View: Open
View: Wooded
County:
State: South Dakota
Country: United States of America
Resources
Trails in the surrounding area
Copyright © 2011 RambleFeet LLC. All rights reserved.