Superior Hiking Trail
Carlton Peak Trail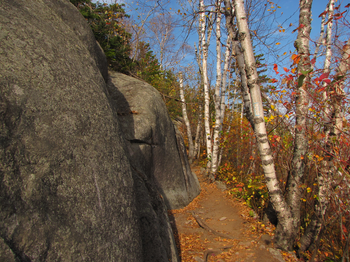 The first time I saw Carlton Peak while driving along Highway 61, I came to realize there were true mountains in Minnesota. I drove a while and found a trailhead that led to the peak and came to a second realization that it was an amazingly easy hike to the top.
---
For all that it is an easy hike, I've not lost that feeling that Carlton Peak is a true mountain, and as you gaze down across the trees and Lake Superior stretching to the horizon, I think you'll have that feeling too.
Approach

From the intersection Hwy 61 and Sawbill Trail just northeast of Tofte Minnesota, follow the Sawbill Trail north and west 2.6 miles to the parking lot for Britten Peak, which will be on your right.

---

Coordinates for the hike: 47.5988350,-90.8621470

---

Parking / Trailhead amenities

The gravel parking lot is large and level. There is a clean pit toilet adjacent to the parking lot, as well as a map board that details the several trails that can be accessed from the area.

---

Trail observations

The trail exits directly from the parking lot on the far end from the entrance. The trail is in amazing shape, with boardwalk anywhere the trail crosses an area that could get mucky.

---

The trail descends slightly till somewhere around Carlton Creek, then begins to ascend gradually to the summit of the mountain. There is a short side trail to Ted Tofte Overlook which I recommend taking. The views from there are completely unobstructed.

---

This is an easy fun trail, with rewarding views of the lake and the surrounding bluffs and peaks. If you look carefully you can often spot Britten Peak, which is directly above the trail parking lot. I always find it entertaining to see how far I need to hike to get back to my car!

---

Trail statistics

The trail is 3.81 miles long. The sum of all the uphill climbs is 255 feet.

---

Trail waypoints

| | | |
| --- | --- | --- |
| 0.03 mi | Parking | Parking lot |
| 0.05 mi | Trailhead | Trailhead |
| 0.19 mi | Cross road | Cross the road to follow the trail |
| 0.25 mi | Go straight | Intersection - go straight |
| 0.78 mi | Go straight | Intersection - go straight |
| 1.01 mi | Bench | Bench with a view |
| 1.54 mi | Side trail | Side trail - go left to Ted Tofte Overlook, then return and continue |
| 1.56 mi | Stay left | Branch - stay left and head up |
| 1.66 mi | Overlook | Head back to the main trail and continue left |
| 1.90 mi | Sharp right | Take a sharp right on to the summit trail |
| 2.05 mi | Summit | At the summit |
| 3.81 mi | End of trail | End of trail |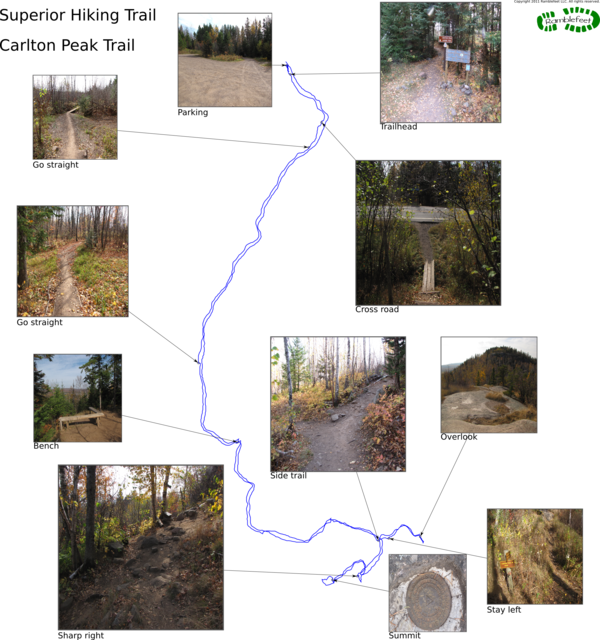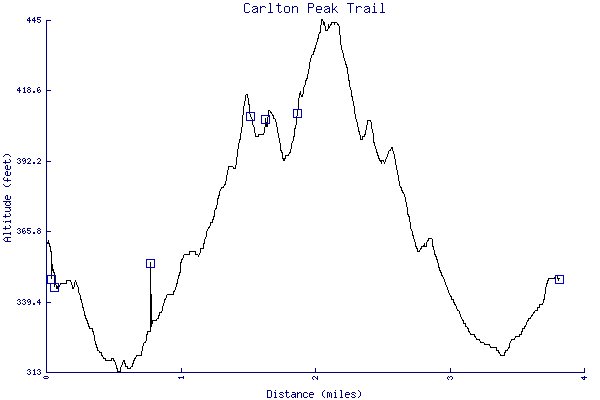 Keywords

Difficulty: Easy
Terrain: Hilly
Terrain: Mountainous
Trail surface: Dirt
Trail surface: Rock
Type: Out-and-back
View: Enclosed
View: Overlooks
View: Wooded
County: Lake
State: Minnesota
Country: United States of America
Links
Resources
Trails in the surrounding area
Copyright © 2011 RambleFeet LLC. All rights reserved.