Red Fleet State Park
Dinosaur Trackway Trail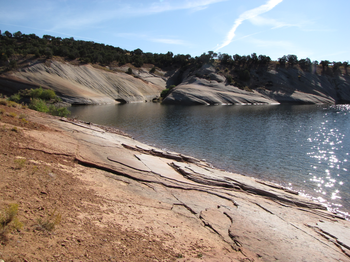 This short desert hike features two rare things. A chance to see ancient dinosaur tracks, and a lake in an undeniably deep desert setting.
---
Early on in the hike you wind beside high sandstone outcroppings and crossing over rock ridges to follow sand filled washes. Soon you begin to glimpse the glitter of the deep blue lake amidst the red rock and sand.
---
You will find the Dinosaur Trackway along the slanted rock at the edge of the lake. The sun was a little too high when I was there to easily see the tracks, but with some work I'm pretty sure I found several of the tracks that were shown on the signs near the waters edge.
---
This is a beautiful and interesting hike, well worth doing!
Approach

From the junction of US-191 and US-40 in Vernal Utah, head north on 191 11.2 miles to a right hand turnoff with a sign for the Red Fleet Dinosaur Trackway.

---

Turn right on the turnoff and go 2.4 miles to the parking lot on your right.

---

Coordinates for the hike: 40.5956620,-109.4361980

---

Parking / Trailhead amenities

The gravel parking lot has room for about 5 cars. There is a clean pit toilet and an information kiosk adjacent to the parking lot and no other facilities. This is a very dry hike - be sure to pick up water before coming to the trailhead, or be sure to bring water purifying gear.

---

Trail observations

The trail leaves directly from the parking lot and slowly winds it's way down to the lake. The trail alternates between sandy and rock stretches. In general it's fairly easy going, though there are a few spots where it's easy to lose the trail and you may find yourself going down a somewhat steeper path than the trail makers intended.

---

There is no shade along the trail, and even on a cool September morning carrying a liter of water I found myself wishing I had brought more to drink.

---

Trail statistics

The trail is 2.20 miles long. The sum of all the uphill climbs is 136 feet.

---

Trail waypoints

| | | |
| --- | --- | --- |
| 0.02 mi | Parking | Parking lot |
| 0.07 mi | Trailhead | Trailhead |
| 0.39 mi | Draw at 4 | Head down a little draw at 4 - there are two dino tracks and a sign down the draw |
| 0.67 mi | Obvious but... | Obvious but easy to miss sign |
| 0.70 mi | Signpost 7 | Signpost 7 |
| 0.83 mi | Hard to spot | Hard to spot signpost |
| 1.16 mi | Turnaround | Check out the trackway, then head back the way you came |
| 2.20 mi | End of trail | End of trail |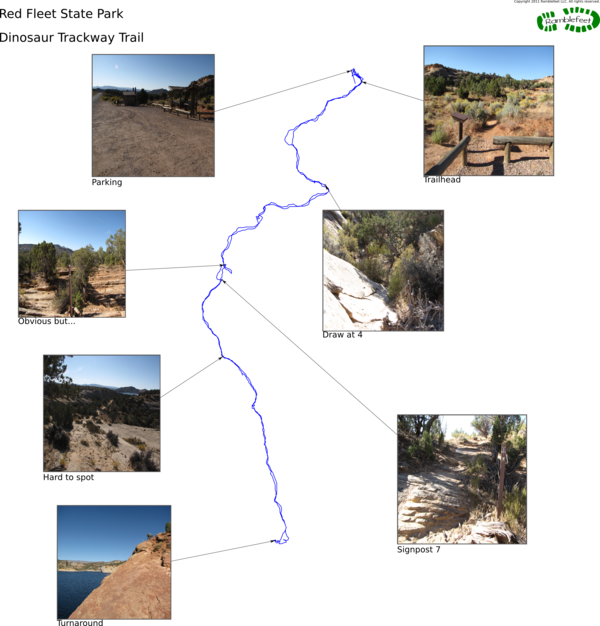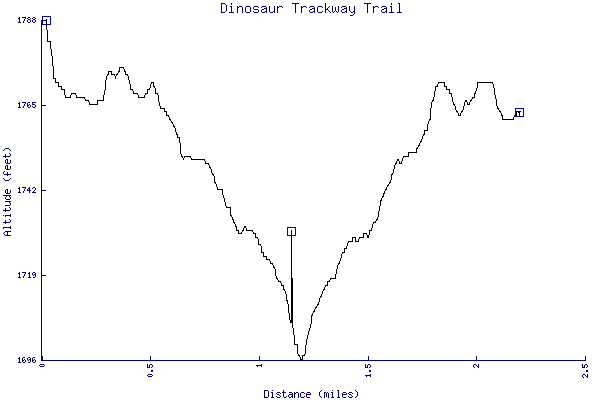 Keywords

Difficulty: Easy
Difficulty: Moderate
Terrain: Canyon
Trail surface: Dirt
Trail surface: Rock
Type: Out-and-back
View: Open
View: Shoreline
County: Uintah
State: Utah
Country: United States of America
Resources
Trails in the surrounding area
Copyright © 2011 RambleFeet LLC. All rights reserved.