Custer State Park
Little Devils Tower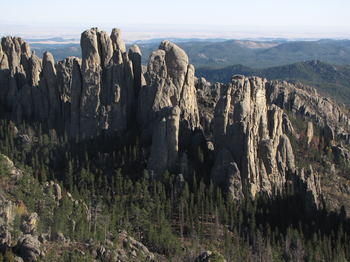 My son has been to the top of Little Devils Tower four times as of this writing. His first ascent was just after he turned four, and that time I carried him almost all the way to the top in a backpack.
---
The memory of that climb spurred him on to his next ascent at six years old, and since then it is the one hike he always talks about doing, even though he has since been hiking all over the US and parts of Canada.
---
It's a fairly hard hike but the rewards when you get to the top are well worth it. It's even a pleasant hike if you don't go all the way to the summit!
Approach

From the junction of Interstate Hwy 385 and South Dakota Hwy 87 about 3 miles south of Hill City, follow SD 87 south as it winds it's way up 5.8 miles to a junction with SD 89.

---

Take a left to continue following 87 into the Sylvan Lake area of Custer State Park. Stop at the entrance station to pay for an entrance permit, then continue following 87 0.9 miles to the Little Devils Tower trailhead, which will be on your left.

---

Coordinates for the hike: 43.8431190,-103.5525960

---

Parking / Trailhead amenities

The paved parking lot has room for about 10 cars. There is a clean pit toilet adjacent to the parking lot and no other facilities, though there is a small store and restaurant a mile away by car or trail at Sylvan Lake.

---

There is an informational kiosk and map board near the trailhead.

---

Trail observations

The trailhead leaves from the east side of the parking lot and follows the bottom of a valley for a short ways, then begins to climb at a moderate to steep pitch for a bit over a mile and a half.

---

As you near the summit the trail turns into a climb on raw rock. I don't think it's possible to make it to the summit without using your hands to climb. The summit is large and it's possible to stay away from the sheer cliffs along the edges.

---

As with all exposed summits, this should be avoided if there is any chance of a thunderstorm.

---

Trail statistics

The trail is 3.60 miles long. The sum of all the uphill climbs is 302 feet.

---

Trail waypoints

| | | |
| --- | --- | --- |
| 0.00 mi | Parking | Parking Lot |
| 0.01 mi | Trailhead | Trailhead |
| 0.18 mi | Stay right | Branch - stay right |
| 0.78 mi | Go left | Go left to Little Devils Tower |
| 1.06 mi | Into the gap | Take a left and climb up through the gap |
| 1.10 mi | Climb | Keep climbing |
| 1.11 mi | Turnaround | Turnaround point |
| 2.05 mi | End of trail | End of trail |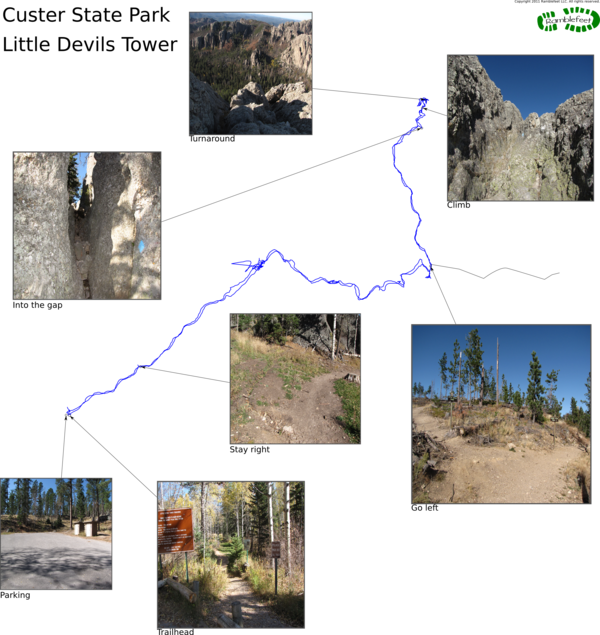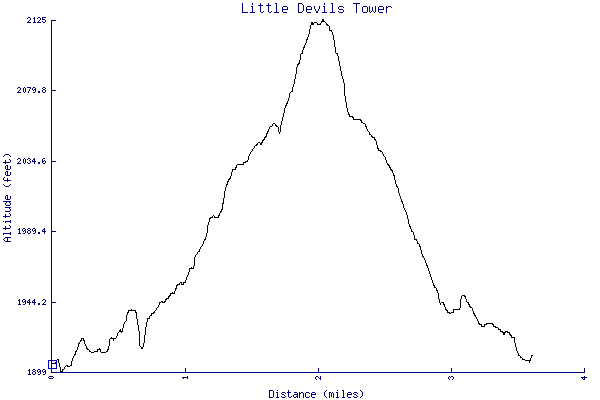 Keywords

Difficulty: Difficult
Difficulty: Moderate
Feature: Rock climbing
Terrain: Mountainous
Trail surface: Dirt
Trail surface: Gravel
Trail surface: Rock
Type: Out-and-back
View: Open
View: Overlooks
County:
State: South Dakota
Country: United States of America
Resources
Trails in the surrounding area
Copyright © 2011 RambleFeet LLC. All rights reserved.