Buffalo National River
Lost Valley Trail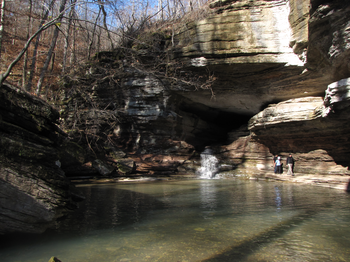 Lost Valley Trail is a short hike into an ever narrowing canyon. Along the way you will find a natural bridge with a stream flowing through it in a tortuous water course, an incredibly high sheer bluff, a beautiful waterfall and a deep cave high up the canyon wall.
---
I wanted to explore the cave when I visited because there is a waterfall 100 feet inside, but the footing was too slippery for the shoes I was wearing and I was a little nervous to be exploring the cave alone.
---
This is a wonderful hike - both fun and scenic!
Approach

From the northern junction of Arkansas 7 and Arkansas 74 northeast of Jasper Arkansas, head west along 74 14.0 miles till it ends at a tee with Arkansas 43.

---

Turn right on 43 and head southwest 1.0 miles to Lost Valley Rd.

---

Turn right on Lost Valley Rd. and follow it 0.5 miles east to the trailhead parking lot.

---

Coordinates for the hike: 36.0101150,-93.3744760

---

Parking / Trailhead amenities

The gravel parking lot is large with space for a lot of cars. There is a flush toilet and a pit toilet adjacent to the parking lot, along with a water faucet and a number of informational kiosks.

---

Trail observations

The trail exits from the west end of the parking lot, almost immediately crossing a stream on some easy stepping stones. From there the trail slowly ascends along a broad well marked path that follows the stream.

---

After about a mile there is a natural bridge that the stream flows through - take time to explore this area - it's pretty amazing!

---

From there the trail climbs a bit to a Eden Falls, then climbs steeply to visit Eden Cave. After exploring Eden Cave (be very careful - it's slippery in there!), retrace your steps to the parking lot.

---

Trail statistics

The trail is 2.92 miles long. The sum of all the uphill climbs is 288 feet.

---

Trail waypoints

| | | |
| --- | --- | --- |
| 0.00 mi | Parking | Parking lot |
| 0.13 mi | Trailhead | Trailhead |
| 0.17 mi | Keep right | Branch - keep right |
| 0.80 mi | Stay left | Branch - stay left |
| 0.87 mi | Go right | Branch - go right towards the natural bridge |
| 0.95 mi | Natural Bridge | Check out the bridge, then head left |
| 1.42 mi | Head right | Head right to the falls |
| 1.47 mi | Go right | Head right to the falls |
| 1.56 mi | Head left | Head left and up to the cave |
| 1.62 mi | Twisty trail | Twisty trail to the cave |
| 2.92 mi | End of trail | End of trail |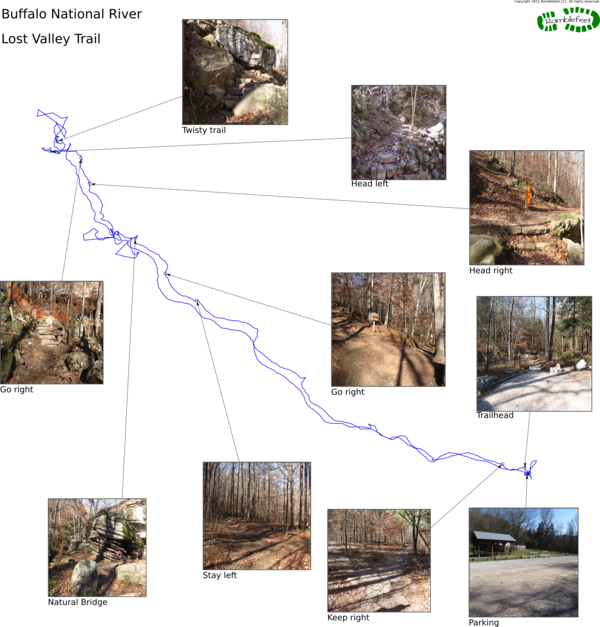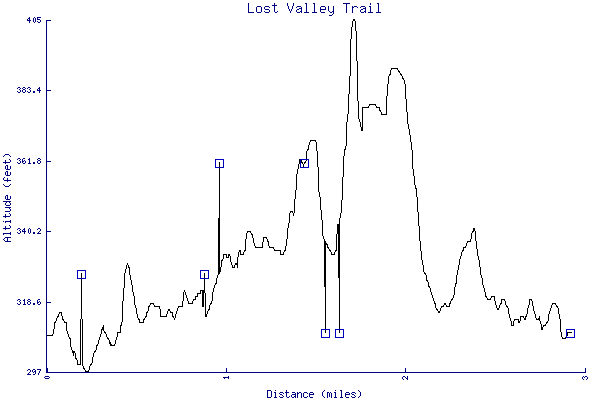 Keywords

Difficulty: Easy
Difficulty: Moderate
Feature: Cave
Feature: Waterfall
Terrain: Canyon
Terrain: Hilly
Trail surface: Dirt
Trail surface: Rock
Type: Out-and-back
View: Overlooks
View: Wooded
County: Newton
State: Arkansas
Country: United States of America
Resources
Trails in the surrounding area
Copyright © 2011 RambleFeet LLC. All rights reserved.