Arches National Park
Delicate Arch Trail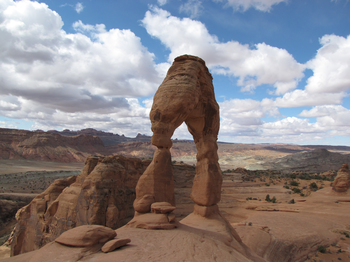 Delicate Arch may be the most rewarding hike I've ever taken. Most of the trail is through amazing beauty, and walking along the waves of slick rock is a tactile joy. Every step seems interesting and unique.
---
There is a sacred feel along the trail which only increases to something profound when finally you see Delicate Arch. I've done this hike many times, and each time I feel I enjoy it more.
Approach

There is a fee needed to enter Arches National Park, which you can pay at a drive up entrance station immediately after you enter the park from Interstate 191.

---

From the entrance station, follow the park road 11.6 miles to the Wolfe Ranch Road.

---

Take a right onto Wolfe Ranch road and follow it for 1.2 miles to the Delicate Arch Parking Lot.

---

Coordinates for the hike: 38.7356790,-109.5202580

---

Parking / Trailhead amenities

There is a map board with trail brochures, and a couple of pit toilets next to the parking area. The parking lot is paved and there are quite a few spaces available, though I would guess there could be a shortage during the busiest summer months.

---

Trail observations

The trailhead exits directly from the parking lot and is well marked. The first section of the trail is flat for a short ways, then it climbs and descends a hill, then climbs for quite a distance to the top of a slickrock ridge. The trail stays on top of the ridge, gradually ascending till it reaches Delicate Arch. From Delicate Arch, retrace your steps back to the parking lot.

---

The trail is quite wide as it approaches the slickrock. Once on the slickrock the path is generally as wide as there is room, and you will need to follow the cairns to stay on the trail. There are a few places where there is some exposure to moderately dangerous drops - if you have children, you should keep an eye on them.

---

Trail statistics

The trail is 3.59 miles long. The sum of all the uphill climbs is 234 feet.

---

Trail waypoints

| | | |
| --- | --- | --- |
| 0.02 mi | Trail head | Starting out on the trail |
| 0.15 mi | Bridge | Bridge |
| 0.29 mi | Steep hill | Steep climb up a small hill |
| 0.37 mi | Hill descent | Gradual descent down the small hill |
| 0.41 mi | Hill | Small hill at beginning of trail |
| 0.73 mi | Ascent | Steep climb up slick rock |
| 0.87 mi | Climbing | Climbing a long slickrock ascent |
| 1.13 mi | Looking back | View looking back down the slickrock ascent |
| 1.20 mi | Top trail | Mostly level trail heading towards Delicate Arch |
| 1.43 mi | Alcoves | Alcoves, arches, and wonderful rock |
| 1.43 mi | Bridge | Bridge spanning an alcove, viewed from the trail |
| 1.76 mi | Arch | Delicate Arch |
| 1.79 mi | Cliff | The trail follows a cliff - this is a little dangerous |
| 1.79 mi | Turnaround | Trail end - retrace trail back to parking lot |
| 1.86 mi | Arch La Sal | Delicate Arch with the La Sal mountains behind |
| 3.59 mi | End of trail | Parking lot |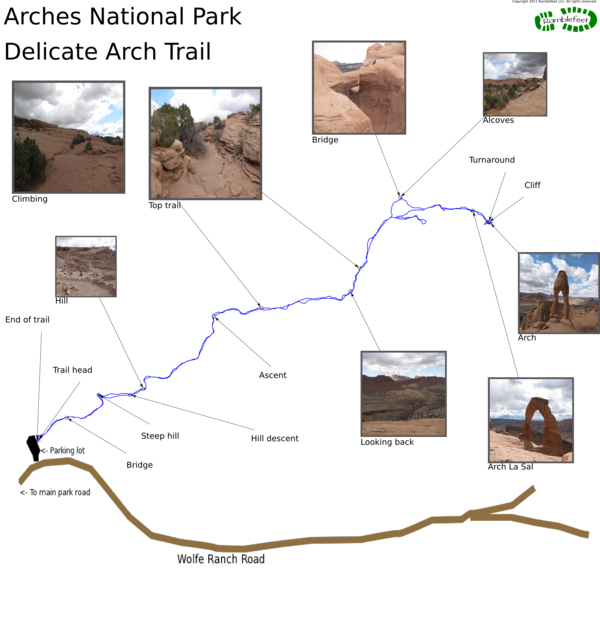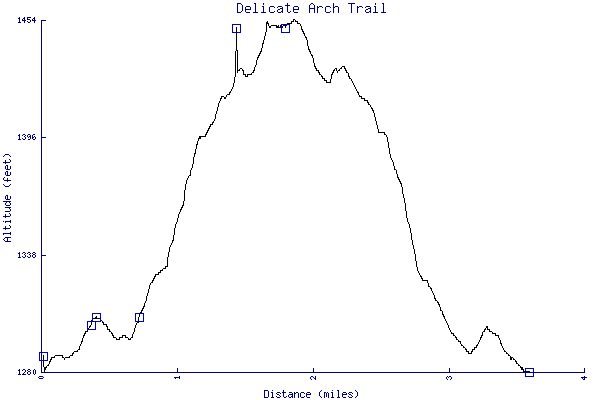 Keywords

Difficulty: Moderate
Terrain : Canyon
Trail surface: Dirt
Trail surface: Rock
View: Open
County: Grand County
State: Utah
Country: United States of America
Resources
Trails in the surrounding area

Area map for Colorado and Utah (4 additional trails)
Area map for Colorado and Utah (4 additional trails)
Area map for Arizona, Colorado, New Mexico, and Utah (4 additional trails)
Copyright © 2011 RambleFeet LLC. All rights reserved.