Arches National Park
Balanced Rock Trail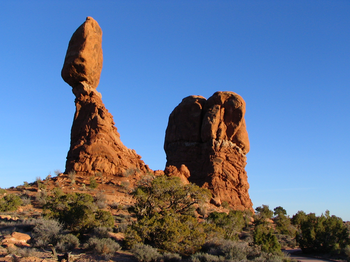 Balanced rock can be seen from many miles away, an odd upside comma on the horizon that catches the eye. It can be seen from as far away as Highway 191 near the entrance to the Islands in the Sky district of Canyonlands, as well as from many places in the park.
---
I've hiked the short Balanced Rock Trail several times, and there is always a sense of disbelief that I am finally so close to the shape that I have been seeing from so many different places. Luckily, it looks as good close up as it does from every other distance, and this quick hike won't disappoint.
Approach

From the park entrance station, drive 9.1 miles to the Balanced Rock Trail parking lot. The entrance to the lot will be on your right.

---

Coordinates for the hike: 38.7019150,-109.5661990

---

Parking / Trailhead amenities

The parking lot for Balanced Rock trail is paved and is just off the main park road. There is room for about 15 cars and a couple of RV's. The trail exits directly from the lot.

---

Trail observations

The paved trail leads directly away from the parking lot and gives good views of Balanced Rock from three sides, as well as stunning views of the La Sal Mountains and all of the wild geography of the surrounding terrain. There is an unpaved side trail that goes around Balanced Rock and connects with the paved trail near the parking lot.

---

There is a map board at the start of the trail.

---

Trail statistics

The trail is 0.37 miles long. The sum of all the uphill climbs is 24 feet.

---

Trail waypoints

| | | |
| --- | --- | --- |
| 0.00 mi | Trailhead | Map board, parking lot |
| 0.06 mi | Trailhead view | Balanced Rock from the trailhead |
| 0.09 mi | Odd rock | Interesting rock formation |
| 0.11 mi | Side view | Balanced rock from the side |
| 0.17 mi | Distant arch | Looking towards the parade of elephants |
| 0.17 mi | Giant Column | Giant column off in the distance |
| 0.19 mi | Back view | Balanced Rock from the back |
| 0.19 mi | Steps | Steps along side trail |
| 0.20 mi | Cliff view | Cliff view from trail |
| 0.37 mi | End of trail | End of trail |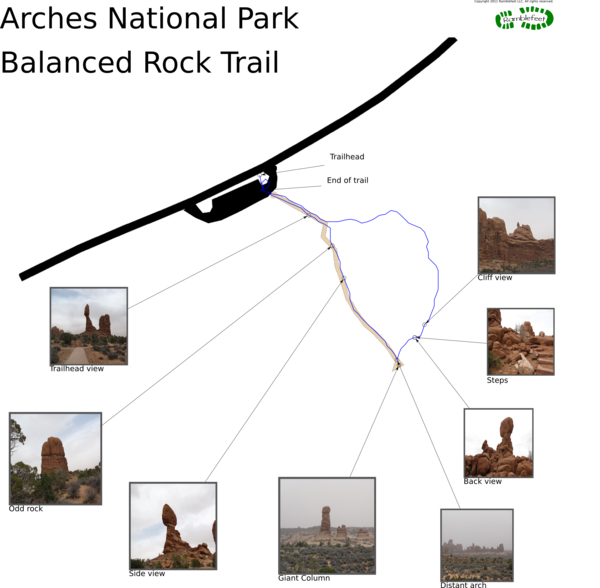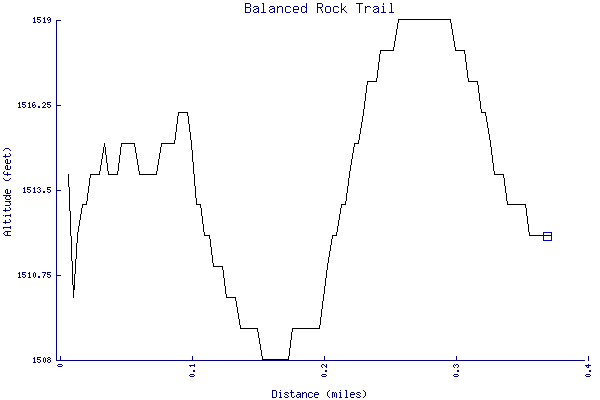 Keywords

Difficulty: Easy
Terrain : Flat
Trail surface: Dirt
Trail surface: Paved
View: Open
County: Grand
State: Utah
Country: United States of America
Resources
Trails in the surrounding area

Area map for Colorado and Utah (4 additional trails)
Area map for Colorado and Utah (4 additional trails)
Area map for Arizona, Colorado, New Mexico, and Utah (4 additional trails)
Copyright © 2011 RambleFeet LLC. All rights reserved.