Yellowstone National Park
Wraith Falls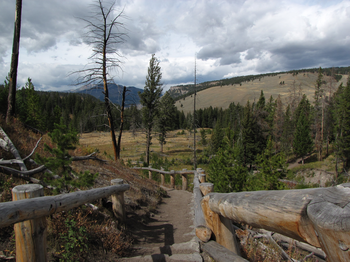 Wraith Falls is a cascade that sheets down a rock face that can be viewed from a platform after a short hike from the roadway. It's a nice place to stretch your legs and see Yellowstone country from a vantage other than your vehicle.
---
On the hike you will see a pretty meadow, cross a nice little stream, and climb a short set of stairs from where you can view the fall at the top. On the way down there are expansive views of the mountains and meadows of Yellowstone.
Approach

From the junction of US-89 and Grand Loop road in the Mammoth area of Yellowstone National Park, drive 4.9 miles east along the Grand Loop road to the parking lot for Wraith Falls, which will be on your right.

---

Coordinates for the hike: 44.9422460,-110.6236980

---

Parking / Trailhead amenities

The parking lot is a paved pullout off of Grand Loop Road. If everyone parks optimally there is probably room for about 15 cars. There are no facilities at the trailhead.

---

Trail observations

The trail is a short and easy out and back - there is a small set of stairs to climb at the end of the hike. The trail is mostly dirt with a short section of boardwalk.

---

Trail statistics

The trail is 0.83 miles long. The sum of all the uphill climbs is 40 feet.

---

Trail waypoints

| | | |
| --- | --- | --- |
| 0.00 mi | Parking | Parking lot |
| 0.02 mi | Trailhead | Trailhead |
| 0.12 mi | Boardwalk | Boardwalk |
| 0.31 mi | Bridge | Bridge |
| 0.38 mi | Stairs | Climbing toward the falls |
| 0.83 mi | End of trail | End of trail |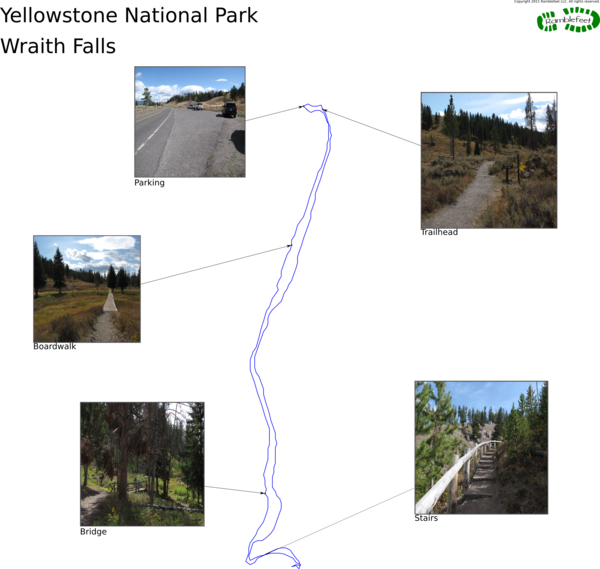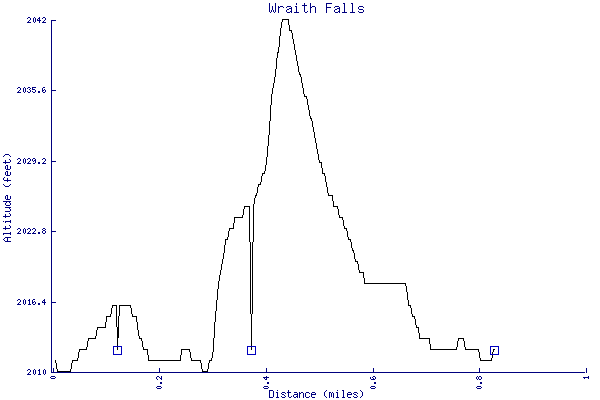 Keywords

Difficulty: Easy
Feature: Waterfall
Terrain: Mountainous
Trail surface: Dirt
Type: Out-and-back
View: Open
County: Park
State: Wyoming
Country: United States of America
Resources
Trails in the surrounding area
Copyright © 2011 RambleFeet LLC. All rights reserved.