Superior Hiking Trail
Oberg Mountain Loop Trail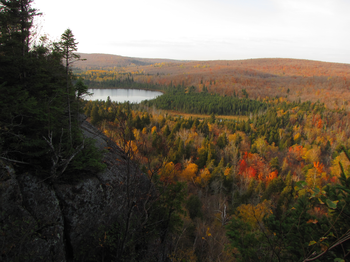 The Oberg Loop is an immensely satisfying hike. There is enough effort to convince yourself you are on a real hike, and the payoff for that effort is enormous. Long sweeping views of Lake Superior, rock ledges bisecting hidden lakes, and the North Shore Sawtooth backcountry stretching to the far horizon.
---
I've done this hike every fall for several years, and every year I enjoy it. Maybe I'll meet you there!
Approach

From the intersection of Hwy 61 and Sawbill Trail just northeast of Tofte Minnesota, head northeast on Hwy 61 4.6 miles to the Onion River Rd.

---

Take a left onto Onion River Road and follow it uphill 2.1 miles to the parking lot for Oberg Mountain, which will be on your left. The Onion River Rd. is mostly dirt and can be a bit washboarded.

---

Coordinates for the hike: 47.6280280,-90.7845560

---

Parking / Trailhead amenities

The dirt parking lot is large and level. There is a clean pit toilet in the parking lot and several informational signs. There are no other facilities near the parking lot.

---

Trail observations

The trail begins on the other side of the Onion River Rd. directly across from the parking lot. The trail ascends to the top of Oberg Mountain via a long switchback and then forms a loop that traces the perimeter of the mountain. There are frequent overlooks that give good views from all sides. Take your time and enjoy!

---

Trail statistics

The trail is 2.65 miles long. The sum of all the uphill climbs is 159 feet.

---

Trail waypoints

| | | |
| --- | --- | --- |
| 0.12 mi | Parking | Parking lot |
| 0.17 mi | Trailhead | Trailhead |
| 0.35 mi | Go right | Branch - head right and start climbing (bench) |
| 0.63 mi | Go right | Head right to start following the loop counterclockwise |
| 0.68 mi | View | View of the backcountry |
| 0.92 mi | Trail | Trail to the next overlook |
| 1.18 mi | Picnic Table | Roll your own picnic table |
| 1.27 mi | Cliff | Cliffs edge far from the lake |
| 2.65 mi | End of trail | End of trail |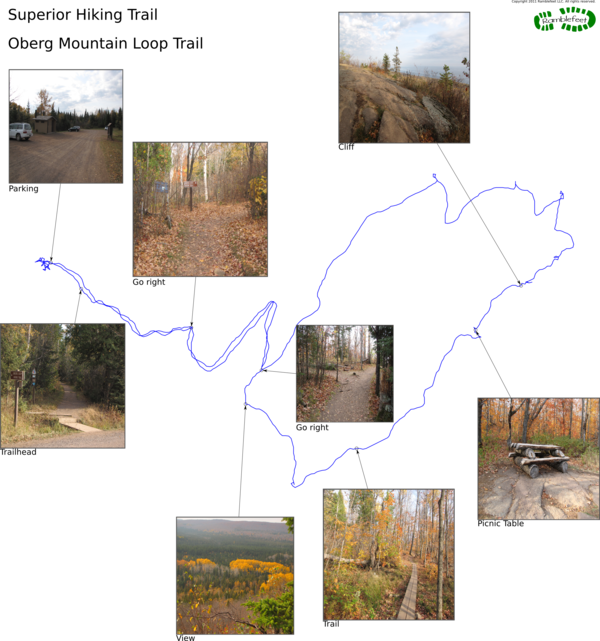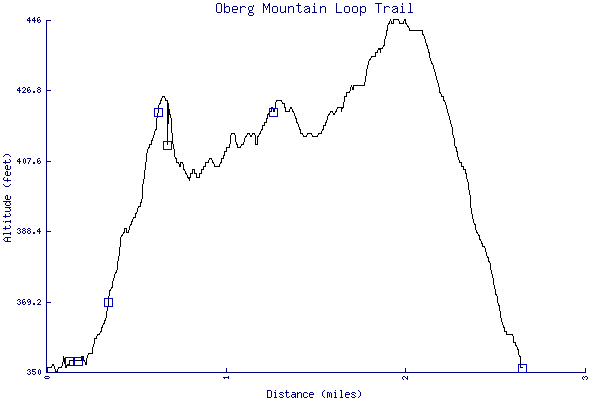 Keywords

Difficulty: Easy
Difficulty: Moderate
Terrain: Mountainous
Trail surface: Dirt
Trail surface: Swamp
Type: Loop
Type: Out-and-back
View: Overlooks
View: Wooded
County: Lake
State: Minnesota
Country: United States of America
Resources
Trails in the surrounding area
Copyright © 2011 RambleFeet LLC. All rights reserved.