Mushroom Rocks State Park
Wandering around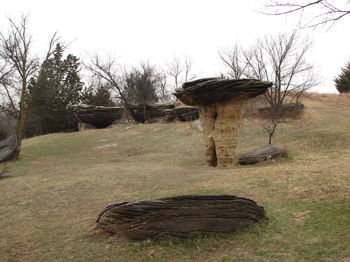 At only 5 acres, Mushroom Rock State park is the smallest park in Kansas. The compact size of the park emphasizes the strange shapes of the stone jutting out of the vast surrounding landscape. I liked roaming this park with my son, letting him explore the rocks while I tried to find the most interesting angles to photograph. It was a nice place to spend a half hour, and I'll stop back when I'm in the area again.
Approach

From the junction of 15th St. and 15th Rd. in Ellsworth KS, head east on 15th Rd (KS-140) for 10 miles to 25th Rd.

---

At 25th Rd, take a right and head south for 1 mile to Avenue K.

---

At Avenue K, take a left and go approximately a mile to Mushroom Rocks State Park - there is parking on both sides of the road.

---

Coordinates for the hike: 38.7258620,-98.0302970

---

Parking / Trailhead amenities

There is a clean pit toilet and a couple of signs near the parking lot. Make sure to cross the bridge on the south side of the road to see all of the Mushroom Rocks.

---

Trail observations

There isn't really a trail here - simply wander around and make sure to look at the rocks from a variety of angles!

---

Trail statistics

The trail is 0.38 miles long. The sum of all the uphill climbs is 9 feet.

---

Trail waypoints

| | | |
| --- | --- | --- |
| 0.00 mi | Parking | Parking and toilet |
| 0.00 mi | History | Park history |
| 0.02 mi | Bridge | Bridge |
| 0.08 mi | Mushroom rock | Mushroom Rock |
| 0.08 mi | Carved stone | Cool carved stones |
| 0.23 mi | Assortment | Assorted mushroom rocks |
| 0.24 mi | Picnic table | Picnic table |
| 0.38 mi | End of trail | End of trail |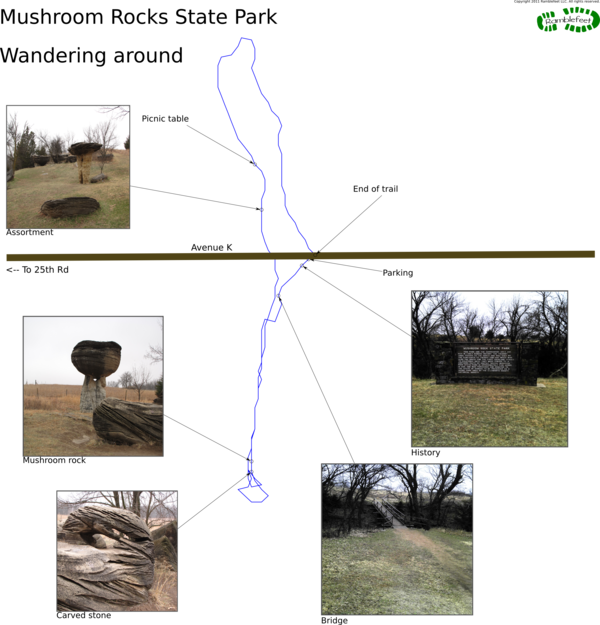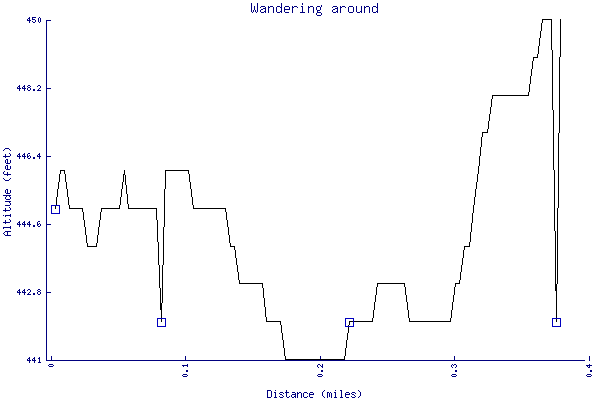 Keywords

Difficulty: Easy
Terrain : Flat
Trail surface: Dirt
Trail surface: Grass
View: Open
County: Ellsworth County
State: Kansas
Country: United States of America
Links
Resources
Trails in the surrounding area
Copyright © 2011 RambleFeet LLC. All rights reserved.