Makoshika State Park
Diane Gabriel Trail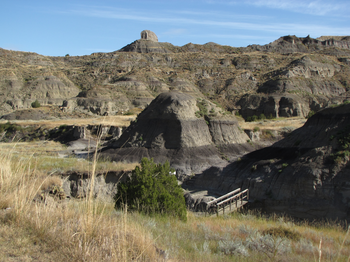 The Diane Gabriel trail is a fun short hike with an amazing amount of scenery.
---
There is an excavation where a fossilized Hadrosaur was found, a wild climb to a bench perched high on a ridge, and a short walk through a pretty grassland.
---
This is an enjoyable quick hike, well worth doing as you explore the rest of Makoshika State Park.
Approach

From the intersection of W. Towne St. and Merrill Ave. in Makoshika Montana, head southwest on Merrill 0.3 miles (4 blocks) then veer left onto Douglas Ave. and head down through a railroad underpass.

---

Douglas Ave. will turn into E. Barry St. Follow Barry southeast for 0.3 miles (4 blocks) to S. Taylor Ave.

---

Turn right on Taylor and head southwest for 0.4 miles (6 blocks) to Snyder St.

---

Turn left on Snyder St. and follow it 1.3 miles into Makoshika Start Park to the Diane Gabriel trailhead parking lot on your left.

---

At the entrance to the park, you will find an entrance station where you will need to pay an entrance fee.

---

Coordinates for the hike: 47.0764910,-104.6951790

---

Parking / Trailhead amenities

The parking lot is paved and level and has plenty of room. There are picnic shelters and a pit toilet adjacent to the parking lot.

---

Trail observations

The trail exits directly off the parking lot. After a very short walk, the trail descends steeply to a bridge over a wash, then branches to form a loop. Follow the loop right. The trail will cross some barren badlands, then begin to ascend to a side trail which you can climb to a Hadrosaur fossil excavation and a high bench overlooking the park.

---

After enjoying the view, descend and resume following the loop back to the bridge, then retrace your steps back to the parking lot.

---

Trail statistics

The trail is 0.98 miles long. The sum of all the uphill climbs is 59 feet.

---

Trail waypoints

| | | |
| --- | --- | --- |
| 0.01 mi | Parking | Parking Lot |
| 0.02 mi | Trailhead | Trailhead |
| 0.10 mi | Go right | Junction - go right up the steps |
| 0.16 mi | Stone lined trail | Stay between the rocks |
| 0.19 mi | Stay left | Branch - stay left |
| 0.33 mi | Junction - go right | Hadrosaur Jct sign - climb to the overlook, then return here |
| 0.39 mi | Site | Check out Hadrosaur site, then continue to the bench |
| 0.47 mi | Overlook bench | Bench - scenic overlook |
| 0.62 mi | Streambed | Crossing a rocky streambed |
| 0.75 mi | Grassland | Trail through the grassland |
| 0.76 mi | Bench | Bench |
| 0.83 mi | Cut | Descending through a cut |
| 0.98 mi | End of trail | End of trail |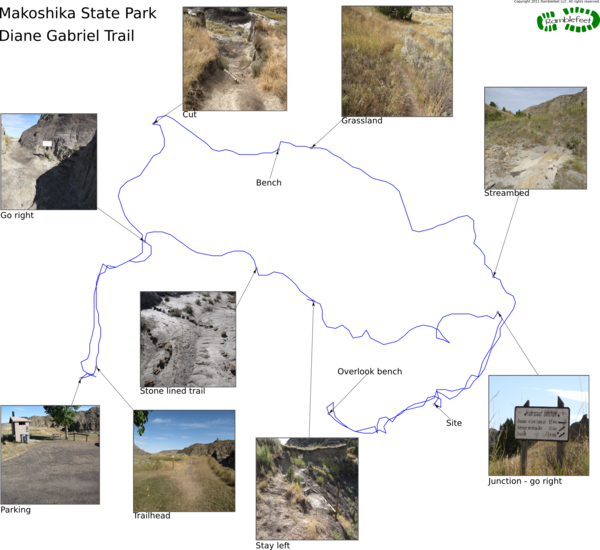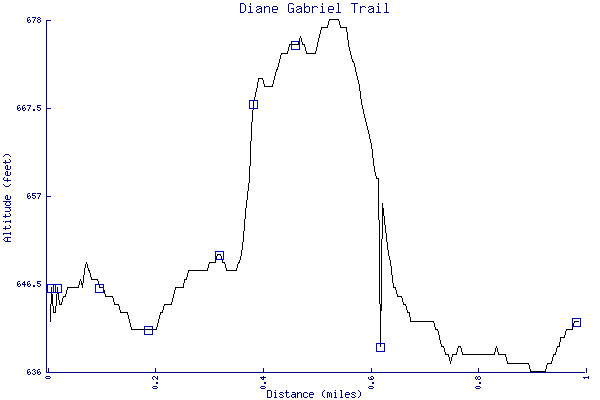 Keywords

Difficulty: Easy
Difficulty: Moderate
Terrain: Badlands
Terrain: Hilly
Trail surface: Dirt
Trail surface: Grassy
Type: Lollipop
View: Open
View: Overlooks
County: Dawson
State: Montana
Country: United States of America
Links
Resources
Trails in the surrounding area
Copyright © 2011 RambleFeet LLC. All rights reserved.