Dinosaur National Monument
Harpers Corner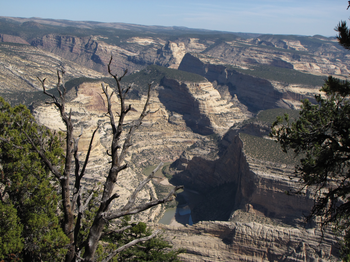 Harpers Corner is a long drive from anywhere, and when you finally arrive you might think you've seen all you could see on the drive in. You would be wrong - the views as you walk are astounding.
---
Different views are seen as you move along - a road deep in a canyon far below, tall cliffs foreshortened to small bumps, rushing rapids made tiny by the vast distance but still audible in the palpable silence.
Approach

From the junction of US-40 and US-191 in Vernal Utah, follow US-40 east 35.2 miles to the entrance road to Dinosaur National Monument.

---

Take a left onto the entrance road and follow it north 31.5 miles to the end, where there will be a parking lot for the Harpers Corner Trailhead. There are numerous overlooks along the way, and I would highly recommend stopping at each and taking a look.

---

Be sure to stock up on water before leaving US-40.

---

Coordinates for the hike: 40.5241700,-109.0205800

---

Parking / Trailhead amenities

The parking lot is paved and large. There is a pit toilet adjacent to the lot, but no other facilities.

---

Trail observations

Harpers corner is a moderately easy out and back trail with stunning vistas of the surrounding canyon country. The views are incredible, and there is a lot to look at. I recommend bringing binoculars and giving yourself plenty of time for site-seeing.

---

I've hiked this trail in winter, spring, and fall, and I've felt overheated every time. Bring plenty of water on this hike!

---

Trail statistics

The trail is 2.42 miles long. The sum of all the uphill climbs is 113 feet.

---

Trail waypoints

| | | |
| --- | --- | --- |
| 0.10 mi | Parking | Parking lot |
| 0.13 mi | Trailhead | Trailhead |
| 0.27 mi | Echo Park | Echo Park view |
| 0.65 mi | Stay left | Branch - keep left |
| 0.77 mi | Bench | Bench |
| 1.17 mi | Green River | Green River view |
| 1.21 mi | Bench | Bench |
| 1.28 mi | Turnaround | Point of no return |
| 2.42 mi | End of trail | End of trail |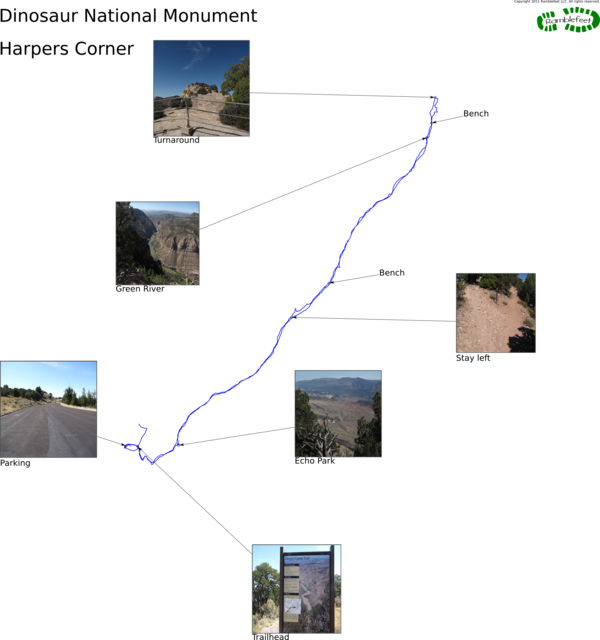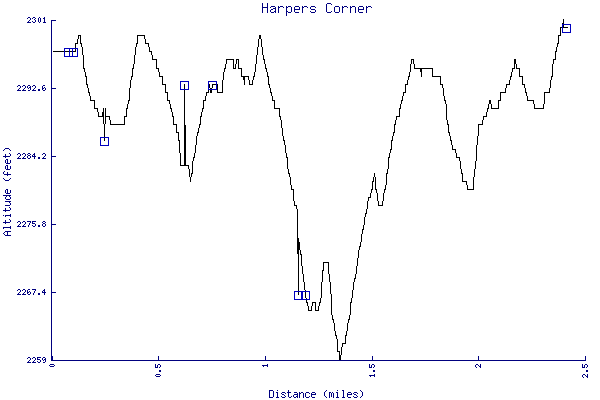 Keywords

Difficulty: Easy
Difficulty: Moderate
Terrain: Mountainous
Trail surface: Dirt
Type: Out-and-back
View: Open
View: Overlooks
County: Moffat County
State: Colorado
Country: United States of America
Resources
Trails in the surrounding area
Copyright © 2011 RambleFeet LLC. All rights reserved.