Badlands National Park
Notch Trail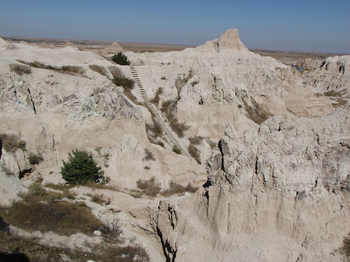 The Notch Trail is a short but spectacular and fun trail in Badlands National Park. The trail leads up a small box canyon that gets narrower and more convoluted till suddenly you are presented with a surprising twist in the trail - a ladder that leads to the upper reaches of the canyon and an amazing view of the land south of the badlands.
---
The ladder is not for the faint of heart, but if you can make the climb, it's worth the effort!
Approach

From the intersection of I90 and South Dakota 240 near Cactus Flat South Dakota, drive 6.1 miles south to the parking lot for the Notch trail. There will be a National Park entrance station along the way where you will need to pay a fee to enter the park.

---

Coordinates for the hike: 43.7603300,-101.9280700

---

Parking / Trailhead amenities

The paved parking lot is enormous. There is a clean pit toilet in the parking lot and an informational kiosk. The parking lot provides access to four different trails - Notch, Window, Door, and Castle. Window and Door are short easy trails. Notch is moderately difficult, and Castle is a long out and back.

---

Trail observations

The Notch Trail leaves directly from the south end of the parking lot. The trail is well worn and marked with yellow blazed signposts. The trail heads along the bottom of a canyon and is easy going till you reach a ladder that takes you to the rim of the canyon. Climbing the ladder and skirting the rim of the canyon require some skill and a lot of caution. When you reach the notch, there is again a sheer drop.

---

For all of that, or maybe because of all that, this is an excellent hike!

---

Note that I personally would not do this hike if it was wet or raining.

---

Trail statistics

The trail is 1.61 miles long. The sum of all the uphill climbs is 72 feet.

---

Trail waypoints

| | | |
| --- | --- | --- |
| 0.11 mi | Parking | Parking lot |
| 0.18 mi | Trailhead | Trailhead |
| 0.52 mi | Ladder | Badlands ladder |
| 0.57 mi | Edge | Trail along the edge |
| 0.62 mi | Danger | Dangerous cliff |
| 0.80 mi | Turn right | Turn and head up to the notch |
| 0.83 mi | Notch | The Notch |
| 1.75 mi | End of trail | End of trail |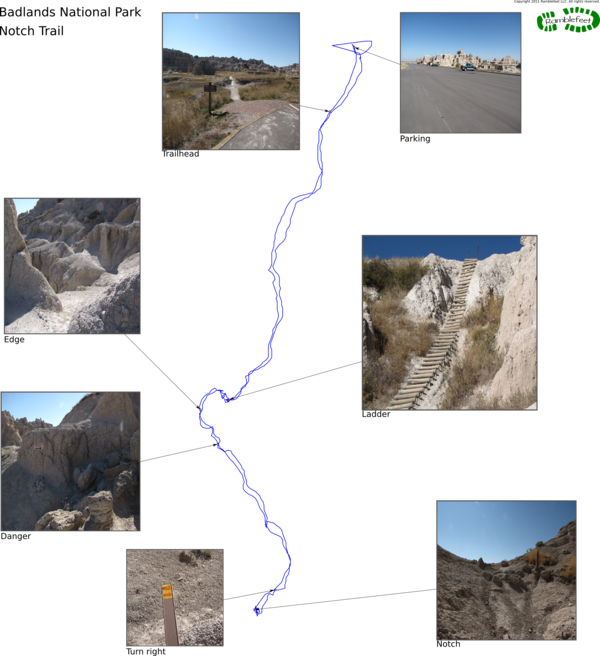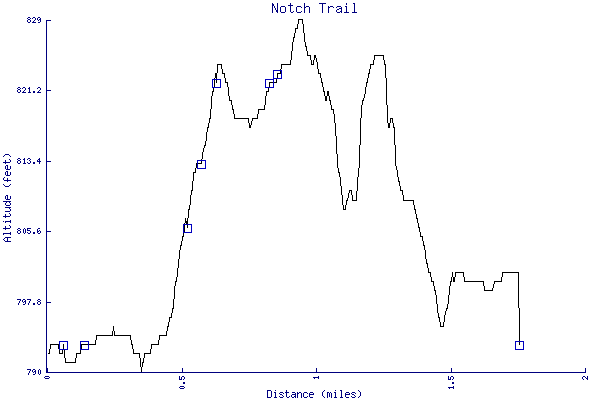 Keywords

Difficulty: Moderate
Terrain: Badlands
Trail surface: Dirt
Type: Out-and-back
View: Open
View: Overlooks
County:
State: South Dakota
Country: United States of America
Resources
Trails in the surrounding area
Copyright © 2011 RambleFeet LLC. All rights reserved.