Badlands National Park
Castle Trail eastern segment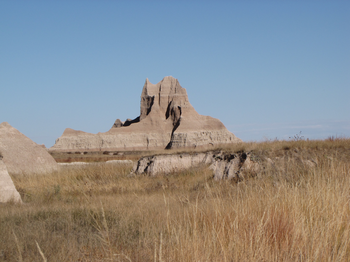 The eastern segment of the Castle Trail is an easy and fun out and back hike that gives long views of the grass and table lands, and close up views of the spires, gullies, ravines and other features of the Badlands.
Approach

From the intersection of I90 and South Dakota 240 near Cactus Flat South Dakota, drive 6.1 miles south to the parking lot for the Notch trail. There will be a National Park entrance station along the way where you will need to pay a fee to enter the park.

---

Coordinates for the hike: 43.7611800,-101.9277100

---

Parking / Trailhead amenities

The paved parking lot is enormous. There is a clean pit toilet in the parking lot and an informational kiosk. The parking lot provides access to four different trails - Notch, Window, Door, and Castle. Window and Door are short easy trails. Notch is moderately difficult, and Castle is an out and back.

---

Trail observations

The trail starts across the road from the parking lot via a stairway that descends to an informational kiosk and trail register.

---

The trail is the easternmost of three segments of the Castle Valley trail. This hike is an easy hike out to the junction with the Medicine Root trail and then a return along the same path to the parking lot.

---

The views on this hike are excellent, and there is a fun little section where the trail follows a sinuous erosion gulley that is my personal favorite portion of this hike.

---

Trail statistics

The trail is 3.00 miles long. The sum of all the uphill climbs is 65 feet.

---

Trail waypoints

| | | |
| --- | --- | --- |
| 0.02 mi | Parking | Parking lot |
| 0.03 mi | Trailhead | Trailhead |
| 0.45 mi | Gulley | Heading into the erosion gullies |
| 0.58 mi | Pyramids | Pyramids along the Castle trail |
| 1.49 mi | Turnaround | Turnaround point |
| 3.00 mi | End of trail | End of trail |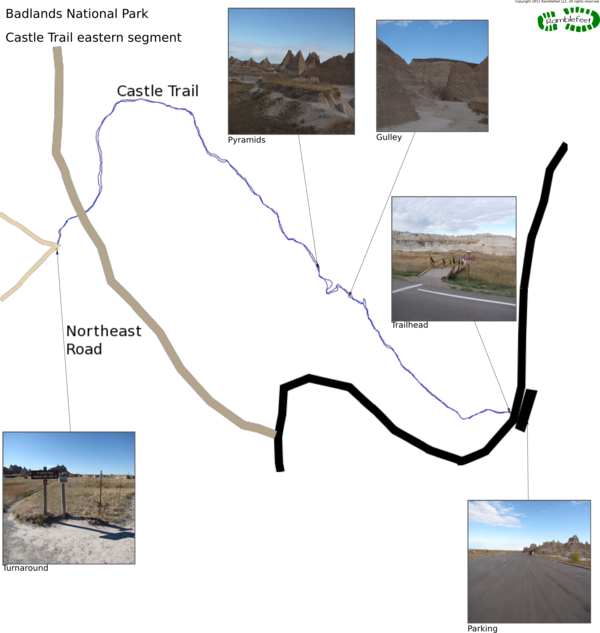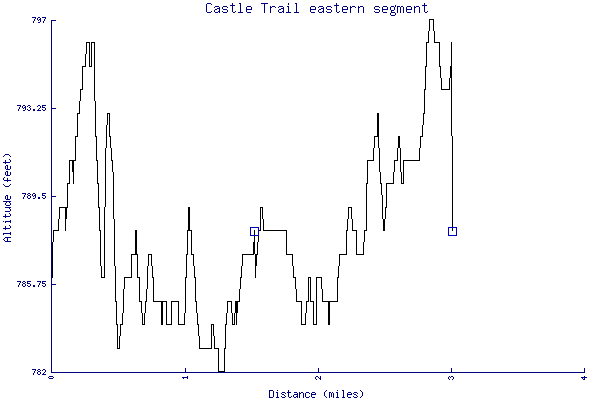 Keywords

Difficulty: Easy
Terrain: Badlands
Trail surface: Dirt
Type: Out-and-back
View: Open
County:
State: South Dakota
Country: United States of America
Resources
Trails in the surrounding area
Copyright © 2011 RambleFeet LLC. All rights reserved.