Pikes Peak State Park
Bridal Veil Falls and beyond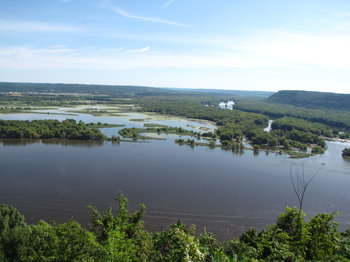 Pike's Peak State Park's most singular attraction is the overlook on the tallest bluff on the Mississippi River, and that is all that most people see.
---
A little longer stroll will bring you to a pretty little waterfall in a nice little hollow. From there you can find many miles of quiet hiking, following deep ravines to Mississippi overlooks and exploring sunlit meadows and shadowy forests.
---
The trails are amazingly well kept, wide and clear and easy to follow.
---
I enjoy hiking here immensely - I hope you will too.
Approach

From the intersection of Iowa Hwy 76 and Anti-Monopoly Drive next to the Lady Luck Casino south of Marquette Iowa, follow Hwy 76 south along the river through McGregor for 1.7 miles.

---

At the south end of McGregor, turn left onto Cty Rd. X-56, then take a quick right to continue to follow X-56 for 1.8 miles to Pikes Peak road.

---

Turn left onto Pikes Peak road and follow it for 0.4 miles to the parking lot near the concession stand and path to the overlook. Don't enter the campground.

---

Coordinates for the hike: 42.9962930,-91.1641430

---

Parking / Trailhead amenities

The parking loop is paved and has room for a fair number of vehicles. On peak full color weekends the lot is often full - sometimes overflow parking is arranged. Adjacent to the parking lot are clean flush toilets, a drinking fountain, and a nice little walk up park store.

---

Trail observations

To reach the trailhead, follow the sidewalk to the overlook. The trail is well marked and exits along a sidewalk immediately to the left of the overlook.

---

After a short walk, the sidewalk turns into a wooden staircase that descends for quite a ways down to Bridal Veil Falls, then ascends rapidly to Hickory Ridge Mounds. When you reach Hickory Ridge Mounds you will take a right and walk along the mounds for a short way on the bluff side.

---

You will need to keep your eye out for a trail head sign for Point Ann on the far side of the mounds clearing as you walk. It's not hard to spot, but I can imagine it could be missed. When you spot the trailhead sign, cross the mounds clearing and follow the trail.

---

From there the trail loops through forest and along ravines for quite aways through several intersections till you arrive at the Homestead Parking lot. At the Homestead parking lot, take a left and walk past the Peak Inn sign, cross the Park Manager road and enter the woods on the trail heading towards Pike Peak.

---

On the way back you will retrace a portion of the trail you took on the way out.

---

Trail statistics

The trail is 6.76 miles long. The sum of all the uphill climbs is 559 feet.

---

Trail waypoints

| | | |
| --- | --- | --- |
| 0.10 mi | Parking | Parking lot |
| 0.24 mi | Overlook | Overlook and trailhead |
| 0.33 mi | Trailhead | Trailhead |
| 0.37 mi | Drinking fountain | Drinking fountain |
| 0.39 mi | Bear Mound | Bear Mound |
| 0.43 mi | Go down | Go down the stairs |
| 0.55 mi | Right and down | Branch - go right and down |
| 0.59 mi | Right and return | Take stairs down to the falls, then return and head to Hickory Ridge |
| 0.75 mi | Bench | Bench |
| 0.82 mi | Go right | At the top of the stairs, go right past the bench |
| 0.93 mi | Cut across | Leave trail and cut across clearing to sign for Point Ann Trail |
| 1.44 mi | Right to Pt Ann | Tee - head right toward Point Ann |
| 1.62 mi | Keep right | Stay right to go straight at the service road |
| 2.56 mi | Right towards Ann | Tee - go right towards Point Ann |
| 3.74 mi | Sharp left | Branch - take sharp left towards Point Ann (bench) |
| 4.10 mi | Tee - go right | Tee - go right away from the "Not a Trail" sign |
| 4.28 mi | Left - Homestead | Branch - go left towards Homestead Parking |
| 4.53 mi | Stay left | Go straight and bypass the side trail to the quarry |
| 4.72 mi | Go left | Homestead Parking - go left - don't enter the parking lot |
| 4.76 mi | Enter trail | Cross by the gate to the park manager and enter trail towards Pikes Peak |
| 4.94 mi | Right backtrack | Head right towards Pikes Peak (backtracking along earlier trail for a while) |
| 6.26 mi | Keep left | Keep left |
| 6.32 mi | Keep left | Branch - stay left |
| 6.40 mi | Go right | Branch - go right |
| 6.61 mi | Go left | Intersection - go left at the cement thing with a red cherry light |
| 6.76 mi | End of trail | End of trail |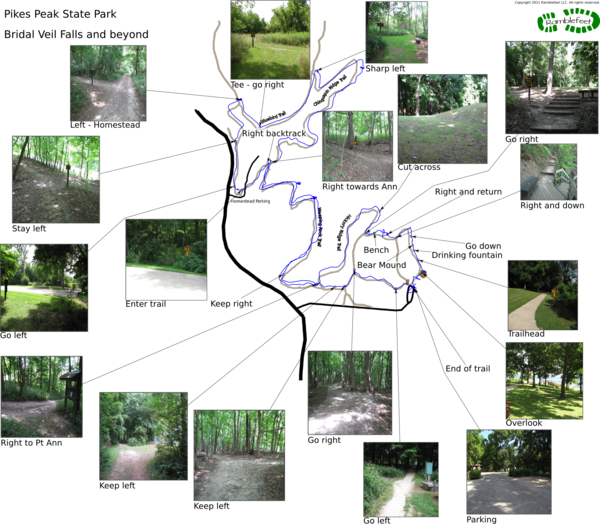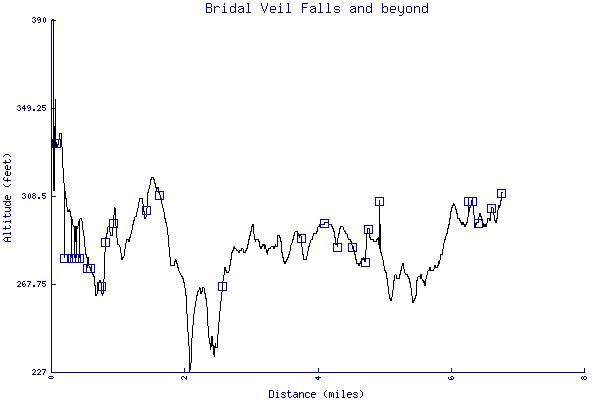 Keywords

Difficulty: Moderate
Feature: Waterfall
Terrain : Hilly
Trail surface: Dirt
Trail surface: Grassy
Trail surface: Gravel
Type: Loop
View: Overlooks
View: Wooded
County: Clayton
State: Iowa
Country: United States of America
Resources
Trails in the surrounding area

Trailheads for Iowa Minnesota, and Wisconsin (5 additional trails)
Trailheads for Illinois Iowa, Minnesota, and Wisconsin (5 additional trails)
Trailheads for Illinois Iowa, Minnesota, and Wisconsin (No additional trails)
Copyright © 2011 RambleFeet LLC. All rights reserved.