Pedestal Rocks
Kings Bluff and Pedestal Rocks Loop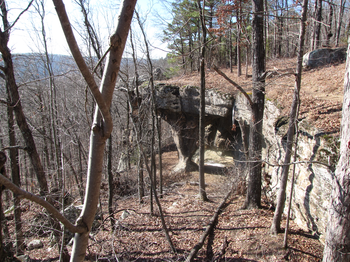 The two times I've hiked Kings Bluff and Pedestal Rocks, the weather has been lousy. I take voice notes as I hike, and as I listen to them now I hear my incredible enthusiasm about the strange and inspiring beauty of the place. It's too bad I wasn't able to capture that in my photos. It does however give me a reason to go back again and hope for better weather so I can get photos that really showcase the beauty.
---
In one of my voice notes I stated that this was a place you could spend days and days exploring - I think I'd like to take myself up on that.
Approach

From the junction of Interstate Freeway 40 and AR 7 in Russelville Arkansas head 34.6 miles to AR-16 at the tiny town of Sand Gap.

---

Take a right on AR-16 and head east 5.9 miles to a short loop road that leads to the trailhead.

---

Coordinates for the hike: 35.7236550,-93.0155110

---

Parking / Trailhead amenities

The parking lot is dirt, and I would guess prone to being a bit mucky, though not excessively so. There is a pit toilet adjacent to the parking lot.

---

Trail observations

The trailhead exits the parking lot via a bridge, then immediately branches. Take the right branch to Kings Bluff. This trail will loop down to the bluff, then intersect the Pedestal Rocks Loop - take a right and follow the Pedestal Rocks Loop till it returns to the parking lot.

---

Note that there are many exposed cliffs, several of them quite high. Be careful!

---

Trail statistics

The trail is 4.23 miles long. The sum of all the uphill climbs is 272 feet.

---

Trail waypoints

| | | |
| --- | --- | --- |
| 0.03 mi | Parking | Parking lot |
| 0.83 mi | Warning | Warning at Kings Bluff |
| 1.21 mi | Rocks | Pedestal Rocks at Kings Bluff |
| 1.86 mi | Junction | Trail map at junction |
| 2.90 mi | Center | Center point of the loop |
| 3.01 mi | Spike | Spike |
| 4.23 mi | End of trail | End of trail |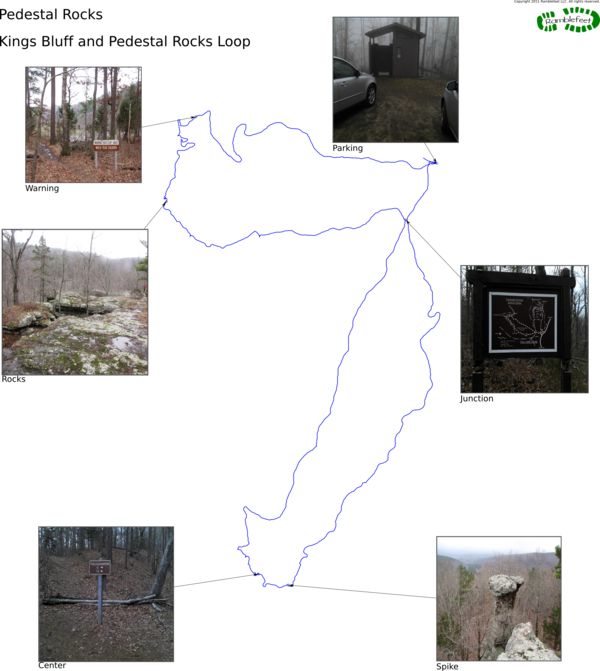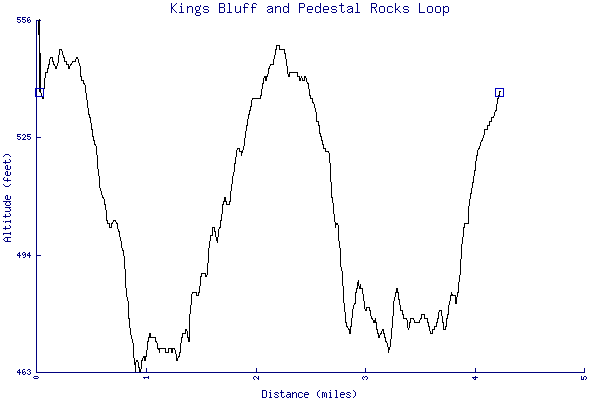 Keywords

Difficulty: Easy
Terrain : Mountainous
Trail surface: Dirt
Trail surface: Rock
Type: Loop
View: Overlook
View: Wooded
County: Pope
State: Arkansas
Country: United States of America
Resources
Trails in the surrounding area
Copyright © 2011 RambleFeet LLC. All rights reserved.