Craters of the Moon National Monument
North Crater Trail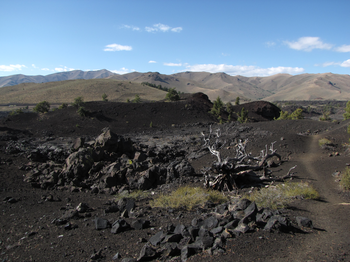 Crates of the Moon is a remote, quiet, and eerily beautiful place to visit.
---
The North Crater Trail gives a more tactile sense of the features that make up this odd landscape. There are climbs and descents, long views of craters and bluffs from sinuous ridge lines, and closeups of lava flows and cinder cones.
---
This is an easy trail to find in a strange and wonderful landscape. For all of that there is a sense of solitude and silence that is perfect for this place.
Approach

From the junction of US-20 and I-15 in Idaho Falls Idaho, head west on US-20 66.4 miles to Arco, where US-20 joins US-93 and heads south.

---

Continue southward on US-20/US-93 19 miles to the entrance to Craters of the Moon National Monument. There is a visitor center near the entrance where you will need to pay a fee to enter.

---

After leaving the visitors center, drive 0.8 miles along the park road to the parking lot for the North Crater.

---

Coordinates for the hike: 43.4563500,-113.5595400

---

Parking / Trailhead amenities

The parking lot is paved and level and has room for a moderate number of vehicles. There are no facilities at the parking lot.

---

Trail observations

The trail leaves directly from the parking lot. The trail is mostly over cinders with a short amount of paving at the far end.

---

The trail is an out and back with a fair amount of climbing and descending throughout the hike. The hike could be a one way if you can arrange for a ride at the Spatter Cones parking lot.

---

There is no shade, and the terrain is extremely dry. Despite this being a relatively short hike, you should bring a lot of water.

---

Trail statistics

The trail is 3.86 miles long. The sum of all the uphill climbs is 321 feet.

---

Trail waypoints

| | | |
| --- | --- | --- |
| 0.00 mi | Parking | Parking lot |
| 0.02 mi | Trailhead | Trailhead |
| 0.31 mi | Keep right | Branch - take side trail to overlook |
| 0.37 mi | Rejoin | Rejoin the trail and keep ascending |
| 0.44 mi | Crater | Trail crosses a crater |
| 0.62 mi | Lava flow | Descending to cross a lava flow |
| 0.93 mi | Break | A convenient place to hang gear and take a break |
| 1.35 mi | Keep right | Volunteer side trail - keep right to stay on the main trail |
| 1.75 mi | Paved path | Paved path to the spatter cones |
| 1.89 mi | Turnaround | Turnaround point |
| 3.86 mi | End of trail | End of trail |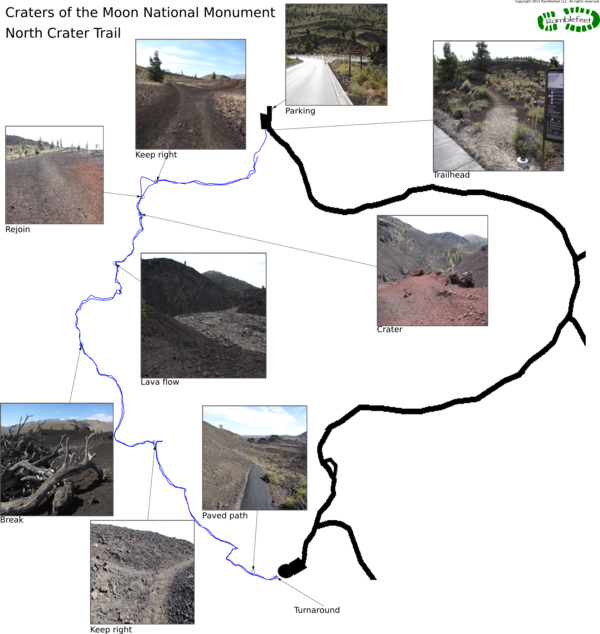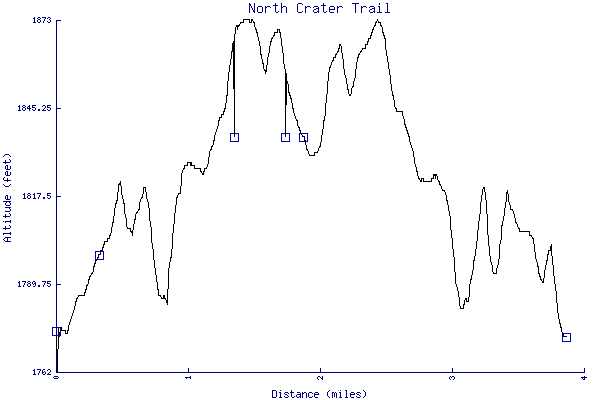 Keywords

Difficulty: Moderate
Feature: Crater
Terrain: Hilly
Trail surface: Cinder
Trail surface: Dirt
Type: Out-and-back
View: Open
View: Overlooks
County: Custer
State: Idaho
Country: United States of America
Resources
Trails in the surrounding area
Copyright © 2011 RambleFeet LLC. All rights reserved.