Blue Ridge Parkway
Linville Falls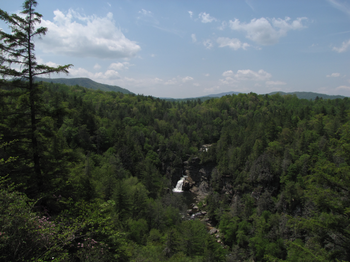 To me Linnville Falls is a sunny warm day spent strolling through tall trees, pink and white blossoms showing in the dappled sunlight, my son and I alternating between quiet conversation and easy companionship.
---
We passed all the sidetrails to the overlooks on the way up, mutually agreeing that we wanted to see them from the highest vantage first. When we arrived at the farthest overlook, we knew we had made the right choice.
---
Whoever chose the location and design of this outlook achieved perfection. Sunlight and breeze and a wonderful view of the falls and the surrounding mountains - this is a great place to simply sit and enjoy, which is what we did for quite a while.
---
Coming back down we visited the other overlooks in turn and these too were rewarding, each in their own way. This is a wonderful, peaceful hike - enjoy.
Approach

Linville Falls is at Blue Ridge Parkway Milepost 316.4, which is about 66 miles northeast along the parkway from Asheville, North Carolina.

---

Coordinates for the hike: 35.9549100,-81.9281010

---

Parking / Trailhead amenities

The parking lot is paved, smooth, and has plenty of capacity. There is a visitors center at the end of the parking lot that has exhibits, gifts, clean restrooms, and a drinking fountain.

---

Trail observations

The trailhead starts at the visitor center. Exit the visitor center and head right across the bridge. I recommend bypassing all the overlooks on the trail until you reach the end, then visiting them all on the way back down. The trail is in good condition, although there are roots across the trail in some areas.

---

It's a mildly strenuous hike if you go to the last overlook. Luckily, reaching the first overlook is easy, so you can choose your level of exertion on this hike!

---

Trail statistics

The trail is 2.55 miles long. The sum of all the uphill climbs is 190 feet.

---

Trail waypoints

| | | |
| --- | --- | --- |
| 0.08 mi | Trailhead | Visitors Center |
| 0.19 mi | Cross bridge | Go right across bridge |
| 0.60 mi | Stay right | Branch - stay right |
| 0.89 mi | Go right | Branch - stay right towards Erwin View |
| 1.03 mi | Valley view | Near the top |
| 1.06 mi | Small steps | Take the stairs |
| 1.13 mi | Stairs | Go up the stairs to the overlook |
| 1.14 mi | Turnaround | Return the way you came, visiting all the overlooks |
| 2.55 mi | End of trail | End of trail |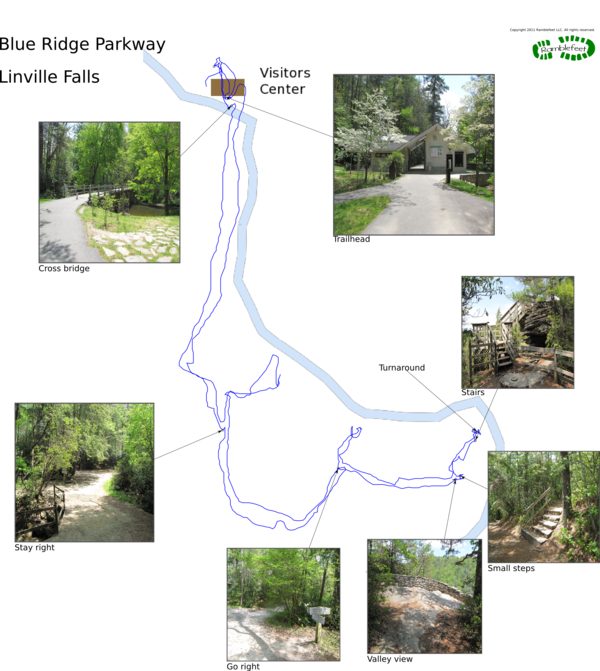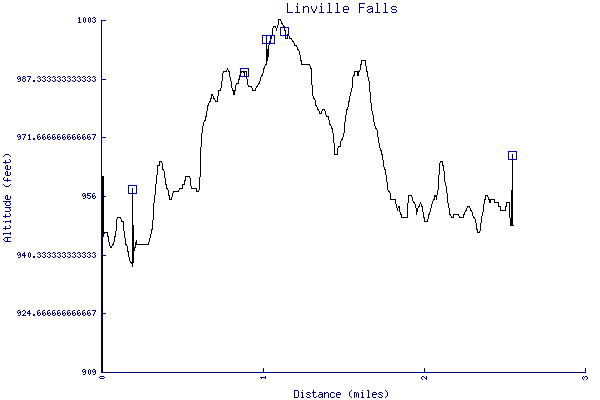 Keywords

Difficulty: Easy
Feature: Waterfall
Terrain : Hilly
Trail surface: Dirt
Type: Out-and-back
View: Enclosed
View: Overlooks
County: Burke
State: North Carolina
Country: United States of America
Links
Resources
Trails in the surrounding area
Copyright © 2011 RambleFeet LLC. All rights reserved.