Badlands National Park
Medicine Root Loop via Saddle Pass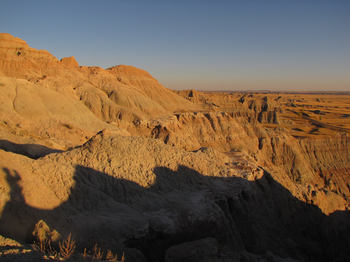 Hiking Saddle Pass and the Medicine Root Trail is an excellent way to really get the feel of the badlands.
---
Climbing up and through the Badlands wall gives an appreciation for how enormous it is. When you reach the top, grasslands stretch to the horizon, interrupted by mesas and crazy fins of rock in all directions. On a clear day everything is sharp edged and surreal. The Medicine Root trail traverses a portion of the grasslands, and as you walk you'll find it's far more diverse than at first glance.
---
Keep your eyes and ears open as you walk - there's a lot of wildlife that makes it's home here. I've seen toads, mule deer, bighorn sheep, coyotes, and a fox in my explorations of the badlands.
Approach

From the junction of I90 and South Dakota 240 in Wall South Dakota, follow SD240 south and then east for 27.1 miles to the parking lot for the Saddle Pass trailhead on your left.

---

Along the way there will be a National Park entrance station where you will need to pay a fee to enter the park.

---

Coordinates for the hike: 43.7582100,-101.9748000

---

Parking / Trailhead amenities

The paved parking lot can hold about a half dozen cars. There are no facilities near the parking lot, though there is an informational kiosk and a trailhead register.

---

Trail observations

The trail leaves the parking lot via a bridge. The trail is marked by blue posts, which leads up the wall to Saddle Pass, and then a short way beyond to a junction with Medicine Root and the Castle Trails.

---

Go straight to follow the Medicine Root Trail, which is marked by green posts. The Medicine Root trail curves out into the grasslands, then heads back towards the wall and terminates at a junction with the Castle Trail near a road and a power line.

---

Follow the Castle Trail (marked by red posts) back to the Saddle Pass junction, then follow the Saddle Pass trail back to the parking lot.

---

Trail statistics

The trail is 4.75 miles long. The sum of all the uphill climbs is 171 feet.

---

Trail waypoints

| | | |
| --- | --- | --- |
| 0.04 mi | Trailhead | Trailhead and parking lot |
| 0.17 mi | Heading up | Heading up to the pass |
| 0.37 mi | Follow blue | Follow the blue trail markers to the junction |
| 0.43 mi | Go straight | Intersection - go straight along the Medicine Root trail |
| 1.62 mi | Ascend | Trail heading up |
| 2.60 mi | Go right | Junction sign - follow the Castle Trail to the right |
| 3.28 mi | Rough | Rough crossing |
| 4.75 mi | End of trail | End of trail |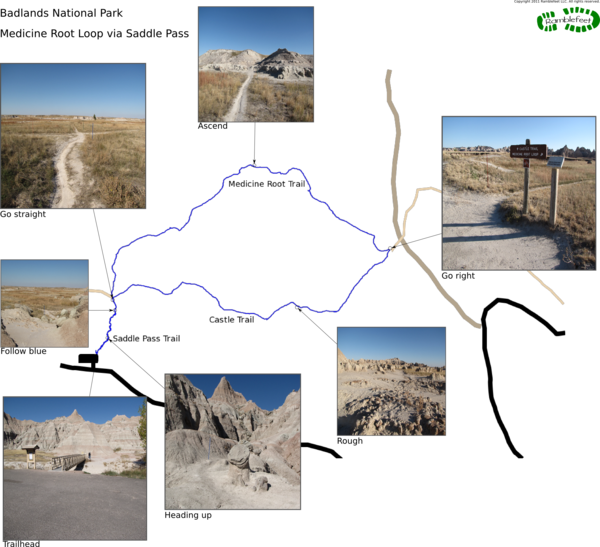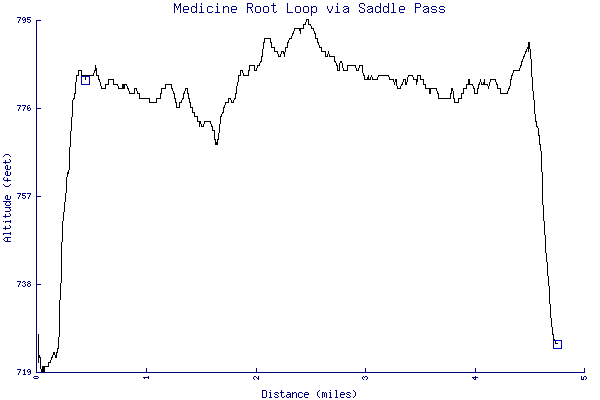 Keywords

Difficulty: Difficult
Difficulty: Moderate
Terrain: Badlands
Terrain: Flat
Trail surface: Dirt
Type: Lollipop
View: Open
View: Overlooks
County:
State: South Dakota
Country: United States of America
Resources
Trails in the surrounding area
Copyright © 2011 RambleFeet LLC. All rights reserved.